It was a very warm day for track!! The temperature was quite hot at 83 degrees and sunny with a lot of wind later in the day!  There were a total of 25 Striders competing at the meet.
Full meet results here:
http://results.tfmeetpro.com/Illinois_Prep_Top_Timing/Windy_City_Series_Meet_2/
Field Events (High Jump and Long Jump and Shot Put)
These field events started right at 9am and went on at the same time as the running events.
High Jump

Joe Keane 4'10" (NEW personal best) – With no practice up to this meet Joe had an incredible day!  His attempt at 5′ 0″ was oh soooo close!
Gin0 Arcuri   3'8"
Nora McCabe

  4′ 4″  (NEW personal best)


Sofia Arcuri

3'6"


Luisa Arcuri

3′ 6″
Long Jump 
5th/6th Grade Girls
Rosie Burke, (3rd) ,   11' 7" (first time doing event)
Ella Abraham   8′ 4″ (NEW personal best)
5th/6th Grade Boys
Colin McKinney (1st) – 16'0" (NEW personal best) – crushed his prior best of 14′ 10″
Noah Cerrado – 10′ 10″ (first time doing event)
Max Stearney – 10′ 7″ (first time doing event)
Frankie Burke  – 8'10″ (personal best=9'4″)
7th/8th Grade Boys
Will Glunz  – 12' 7.25″ (personal best=13'3″)
SHOT PUT
Colin McKinney was the only Strider doing shot put.  He had a new personal best of 25ft 1 inch.  This will help in his pursuit of Pentathlon training for summer Junior Olympics.
The first running event of the day was the 4x 800m relay.   What a race!  Beside the girls Striders, there was a girls team from Northstars and a boys team from Palatine track club, all seeded within 15 seconds of each other.    Monika started off the race fast swapping the lead back and forth finishing her leg in 2:31 (a NEW personal best for the 800m) handing off to Abigail who took off as if it was a 200m race and went into the lead after 100m which the Striders never relinquished, completing her 800m leg in a new personal best of 2:30.  Luisa fanned the flames even further blazing through her 800m leg in 2:33 and a new personal best.  With the baton in Sofia's hand the team pushed hard to get below that magical 10 minutes.  Sofia crushed her 800m anchor leg in 2:27 and a new personal best!  The team flew to a finish time of 10:03!!!, beating both the NorthStars girls team and the Palatine track club boys team by 10+ seconds.
Just to give you a perspective on the accomplishment of these girls:  The results from a large 3A girls high school meet yesterday (results pictured below) would mean a 3rd place finish, beating Loyola Academy.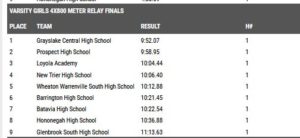 We shifted gears a bit in the second race to the 100m dash.  The Striders had 7 total runners entered
Girls 5th/6th grade division  Rosie had her first ever 100m race and flashed up a fast time of 15.36 which gave her an overall 2nd place amongst 22 runners!  Evelyn and Courtney both improved their times from last week to set new personal bests, Evelyn from 17.61 to 17.27 and Courtney from 17.96 to 17.44.
Boys 5th/6th grade division.  There were two Strider boys who competed.  Max Stearney-17.88 (best is 17.30) and Noah Cerrado-18.98 (best is 18.27).
Girls 7th/8th grade division  Our sole runner was Connolly Nugent who finished in 17.42 creating a new personal best in the 100m.
Boys 7th/8th grade division   Mathew Leistensnider ran a fast race  just off of his best in 15.88 (prior best 15.57).
The wind had picked up a bit by now to about 15mph with the next race, 800m. 
The Striders had 7 total athletes in  this mid distance race
Boys 5th/6th grade division.   Colin McKinney tore out from the line to take the lead the entire way extending it to a 12 second win and in a new personal best of 2:24 (prior best=2:25.51).   Gus Berlinghof was in the next pack of runners coming across in 2:45.87 (prior best=2:37.30).  Frankie Burke after doing all sprint races last week tried out the 800m and had a great first time ever of 3:18.28.  Sub 3 minute will not be too far away.
Girls 7th/8th grade division  Bella Brauc was the sole varsity girls representative.  In her first timed track 800m she broke the tape in a time of 2:49.94.
Boys 7th/8th grade division   Gino Arcuri took off the start line like a race car and into the lead right away passing the first 200m in 31 seconds!!  WOW.  The pace came back to earth over the next 600m but he never gave up the lead in a win with 2:26.88 (best=2:20.46).  Joe Keane battled the wind, off from his best in 2:52.98 (best=2:41).   Will Glunz struggled with the wind a bit in 3:01.75 off his best of 2:57.86.
No 4×100 relay this week, instead the 4x200m relay races next  The Striders  had one JV boys team and a varsity girls team today.
Boys 5th/6th grade division.   Frankie Burke, Noah Cerrado, Max Stearney joined up with Gus Berlinghof to run their first 4×200 relay.  It was a close finish with the Rabbits team but were edged out by a second to finish in 2:33.68.
Girls 7th/8th grade division   The team was a mix of JV and varsity.  Bella Brauc and Connolly Nugent  teamed up with JV runners Sophie Halliday and Rosie Burke.  It was a great first time performance finishing in 2:15.28.
The wind was still kicking up with gusts to 30mph when the 400m race started.  
There were NINE  Striders with some first timers and some new personal bests.
Girls 5th/6th grade division   Emily Stecky went out quick off the line in the final heat with a great windy finish of 1:17.52 and a 3rd place finish.  Courtney Cook, Evelyn Voukides and Sophie Halliday all ran their first 400m track race finishing in 1:21.83, 1:25.98 and 1:31.29.
Girls 7th/8th grade division  One of the first things  Nora McCabe and Lucia Fuentes did when getting to the meet this morning was grabbing some starting blocks and go through what they learned at practice.  This paid dividends for them both as they flew off the blocks and jumped into the lead.   Nora's performance was near personal best area in 1:05.87 (best=1:04.77) and  Lucia crushed her best right behind Nora in second place in 1:08.03 (prior best=1:10.64).  Bella Brauc ran to an impressive first 400m race in 1:14.96.
Boys 7th/8th grade division  Gino Arcuri and Mathew Leistensnider were the two Striders competing.  Gino had a fast start but after about 150m was passed by Jack Westlake to finish in second place with a new personal best of 1:06.04 (prior best=1:08.10).  Mathew had a much stronger 400m race than his last meet crossing first in his heat in a time of 1:19.55, almost four seconds faster (prior best 1:23.17).
The long distance race of the day: 1600m
Boys 5th/6th grade division  There were two Striders in the race, Gus Berlinghof and Santino Conte, both went out to the front keeping within three strides of each other with many lead changes!  It was a photo  finish with Gus just edging out Santino by 9/100ths of a second!!  Gus in 5:47.30 and Santino in 5:47.39. Whoaaa!
Girls 7th/8th grade division   Three Strider runners were Abigail Jordan, Monika Urbaniak and Connolly Nugent.    Abigail took the lead fairly early on around the 200m mark and kept it until the finish line for the win with a high wind battled 5:36.  Monika ran with Hayden from the Rabbits most of the race ending up just behind her in 3rd place with a 5:49.89
Boys 7th/8th grade division  No Striders raced.
There was a guest appearance by Strider Porter Baginski who ran in his first 1600m timed race.  He hung with the 4:36 miler Ben Gibson for the first 800m until Ben picked up the pace and widened the gap.  Porter had a very impressive first time of 4:52.12!  Congrats.
The always popular 200m race was next with 68 runners

There were eleven Striders in this race.  Keep in mind that ALL of this race was INTO a headwind of 15-20mph!!
Girls 5th/6th grade division   There were six Striders in this event.  Rosie Burke led the way in her first time ever 200m in a time of 34.75 (9th).  Emily Stecky had good time of 35.27 just off her best time from last meet of 34.99.  Sophie Halliday established a good first time race of 36.94.   Evelyn Voukides crossed in 37.72 (best=36.88)!  Courtney Cook put down a good newbie time of 38.44.  Ella Abraham blew away her race from last meet of 43.72 zooming to the line in 40.88, wow!, almost three seconds faster.
Boys 5th/6th grade division  We had three Striders in this race.  Frankie Burke led the way with a 39.64 in her first 200m race.  Max Stearney was just a couple steps away in 40.66 with Noah Cerrado just behind him in 41.49.  A tough race into the wind!!
Girls 7th/8th grade division  Lucia Fuentes put up a very impressive  30.90 race in very windy conditions and was ohhh so close to her personal best of 30.77
Boys 7th/8th grade division  Will Glunz was the only Strider in the divisional race completing it in 35.86 (best=32.72)
LAST EVENT of the DAY:  4x400m relay
The Striders had a 7th/8th grade girls team and boys team. The boys team  finished in third place with a 5:08.23.  Will Glunz started it out after just finishing a 200m race two minutes prior!!  Santino Conte was a JV runner filling in on the second leg with a 1:16.  Mathew Leistensnider came in with a 1:22 and handed off to Gino Arcuri for the anchor spot.  Gino gutted out a 1:08.5 and seemed very happy to be done after a long day.
The girls team of Lucia Fuentes, Monika Urbaniak, Abigail Jordan and Nora McCabe had an incredibly dominating race!!  Lucia started off the team with a 1:10 giving them a lead that stayed.  Monika followed up also with a 1:10 handing off to Abigail for the third leg.  Abigail soared to her best EVER 400m split of 1:07.  Nora took the baton and also ran an inspired anchor leg to finish off the team with a huge win in 4:33!  That is a 4:33 mile!!   To put that in perspective this time would have placed them in THIRD place overall at the elementary (IESA) State championship meet in 2019 and on the podium in the past five years before that.
CONGRATS to all Striders today.  The conditions were less than ideal and very tough.  You were relentless and your performances reflected it.
Coach Murphy